Propane Tanks Sales & Service for Austin, Texas and the Texas Hill Country
Call 512.894.4480 or fill out the form below for your free consultation with the Terry Garnett's Propane Tank Installation Team to learn what options are available for your home of business.
Case Study: Underground Propane Tank Installation and Xeriscaping Design
Pictured below: two 1000 gallon propane tanks are installed in one of the finest communities in the Austin and Central Texas area.
Before: Here are the two underground tanks being installed.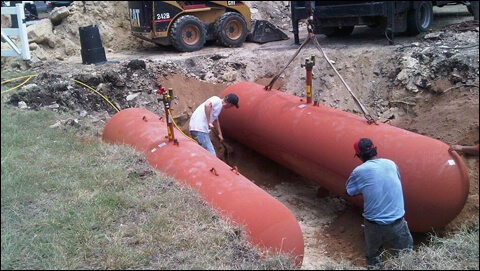 After: Here are the same underground propane tanks after installation and our professional xeriscaping design. The tanks blend perfectly into the landscape and provide precision efficiency as a delivery system for propane energy for the home.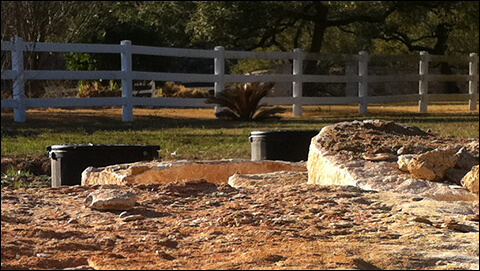 Propane Tanks Sales & Service
Our solutions include everything you need including materials and labor:
Delivery and installation of propane tank
Choice of purchasing your propane tank or renting
2 stage regulator system
10 feet exterior line
Anode systems with underground propane tanks
Return trips to complete everything including final start up
We work closely with architects and builders to site propane tanks with aesthetics in mind. Propane tanks may be fenced, latticed, or camouflaged with native Texas plants to provide an energy source for the home that is out of sight and out of mind.
Call us at 512-894-4480 for assistance in choosing the best option for you.
Underground Propane Tanks Custom Installed
For over 30 years Terry Garnett's Propane has been the premier choice for professional installations of above and underground propane tanks. The Propane Tank Installation Team strategically plans every install to maximize the efficiency of your propane system and provide benefits to you for years to come.
Call 512.894.4480 for your consultation with the Propane Tank Installation Team to learn what options are available for your home of business.
Our propane tank solutions include all materials and labor. We serve the following cities for propane tank installation and service.
• Austin, Texas
• Bastrop, Texas
• Blanco, Texas
• Buda, Texas
• Burnet, Texas
• Cedar Park, Texas
• Dale, Texas
• Del Valle, Texas
• Driftwood, Texas
• Dripping Springs, Texas
• Elgin, Texas
• Georgetown, Texas
• Hutto, Texas
• Johnson City, Texas
• Kyle, Texas
• Lago Vista, Texas
• Lake Travis, Texas
• Lakeway, Texas
• Leander, Texas
• Manchaca, Texas
• Manor, Texas
• New Braunfels, Texas
• Pflugerville, Texas
• Round Mountain, Texas
• Round Rock, Texas
• San Antonio, Texas
• San Marcos, Texas
• Seguin, Texas
• Spicewood, Texas
• Spring Branch, Texas
• Taylor, Texas
• Universal City, Texas
• Wimberley, Texas