2016 – Time to go green with propane!  If you live in Central Texas and need propane, here's some useful information. Terry Garnett's Propane's beautiful bright RED trucks are ready and available to deliver eco friendly GREEN propane to provide you and your family with the cost efficient, intelligent energy solution – just call (512) 894-4480 or visit our website at www.garnettspropane.com.
2016 is the Year to Go Green With Propane
Pure HD5 Propane is the green energy solution, delivers the best value for your dollar, and is the choice of discriminating homeowners in the Texas Hill Country. It's the smart choice yet every year many homes are without propane during the winter months because they have forgotten to check their propane tank levels. Don't be caught off guard! Especially when it just takes one easy phone call to the courteous folks at Terry Garnett's Propane at 512-894-4480.
Did you know that according to a World LP Gas Association study that propane cuts emissions of toxins and carcinogens like benzene and toluene? Propane is an approved alternative fuel listed in both the Clean Air Act of 1990 and the National Energy Policy Act of 1992. In addition, propane is nontoxic and insoluble in water and because it is released as a gas, it doesn't spill, pool, or leave a residue.

In addition, almost 90 percent of propane is produced right here in the United States. That's energy that you can count on.
Your 2016 New Year's Resolution: Save Money Each Month With Propane
Have you made a resolution to join the 50 million Americans who use propane for heating and cooling their homes, heating water, cooking, refrigeration, drying clothes, barbecuing, lighting, and fueling their gas fireplaces?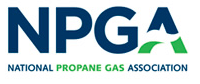 According to the National Propane Gas Association, 11 billion (yes, billions!) gallons  of propane are consumed annually in the U.S. Studies have shown that if you have resolved to save money this year, propane is your best solution for your family's lifestyle because of the savings you'll realize each month.
Perhaps you've made a resolution to maximize the family budget this year. If so, propane makes even more sense. Millions of households save money each month because propane delivers instant on energy for cooking and hot water for baths. You get immediate energy when you need it and pay only for what is used.

Propane is your choice because it burns hotter and more evenly than other fuels. More value and more efficient; that's propane!