Kind Words from Our Customers
We'd like to share some customer comments with you. In the 30+ years that we've had the pleasure to serve Central Texas and the Austin area with propane delivery we've met some great folks.
It makes us feel good when somebody takes the time to send us customer testimonials about the various efforts that are being made on their behalf by our team. Our team cares and it's awesome to see feedback.
Thanks so much to our friends and neighbors who have sent these kudos – totally makes our day!
Patty,
I am an architect doing a project in Walnut Creek. The fire marshal wanted a LP gas request form and I had no idea what that was of where to get it. After not being able to get in touch with the fire marshal I decided to call a propane company and ask the question. Well the woman Shannon the Service Manager I talked to knew exactly what I needed and is going to email me the form. I will pass your name on to the building owner and let him know how helpful you were. He will be needing a company to keep his tank full and you folks should have a leg up.
Thank you very much
Bryan E.
A note of appreciation from Greg K.:

Jennifer C. sent the following to Patty:
Hi, Patty…. Thank you ALL for 18 years of EXCELLENT service, especially that cold winter weekend you guys filled me when I was completely out… I have not forgotten. I left the Garnett propane truck refrigerator magnet prominently displayed for the new owner… I hope she does not already have propane connection as she cannot go wrong with you guys! Thanks again, Jennifer
Here's a message we received from the Mansur Family:
Thank you, Blanca, for your considerate feedback: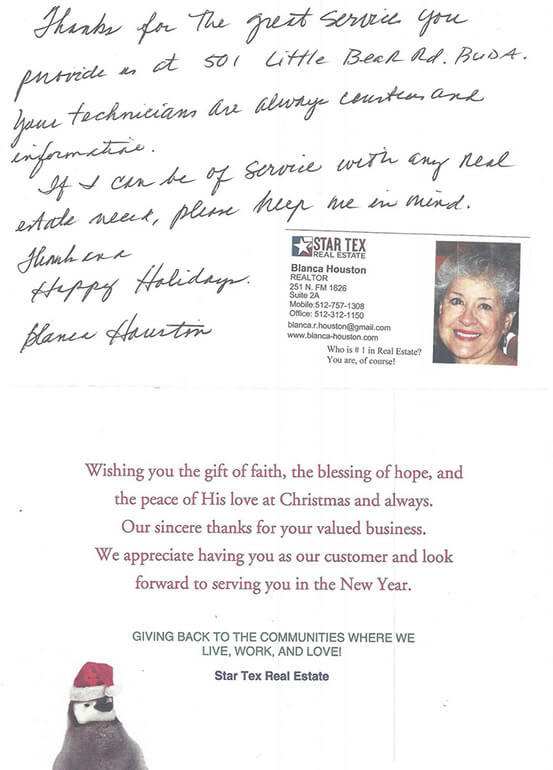 Our customers are our friends & neighbors. Here's a card expressing love and appreciation from Mama Justina: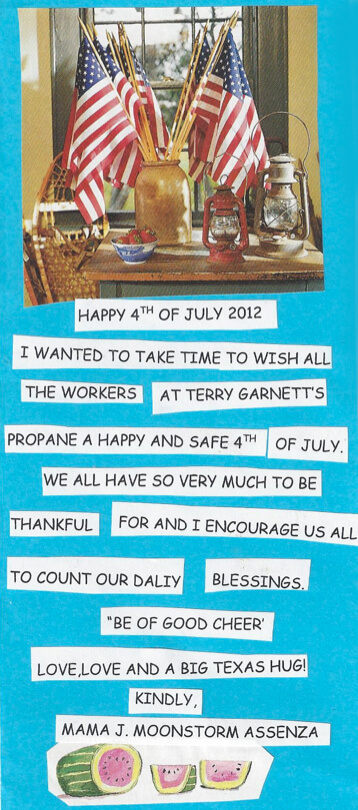 Customer Testimonials for Our Drivers
Here is a card we received praising one of our drivers for his excellent work: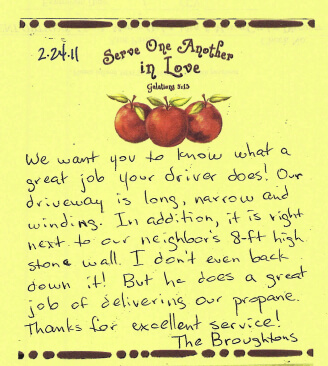 One of our drivers, Bob, went way beyond the call of duty to help a customer – read the story below:
I would like to thank Bob for being the fabulous snake slayer for me.
We are a new customer to Garnetts Propane, while I was waiting for Bob to arrive to our weekend home to service the propane tank and give the house a propane blessing. I came across a snake in one of the closets. I thought it was a rattle snake, and try as I may I was unsuccessful in removing the beast. So, I called your office and spoke to Sarah. (In hind sight this is pretty funny) , I asked her if the driver had a gun? After a brief hesitation she responded with a very calm "a what?? , a gun, on a propane truck ,,,, no." So I asked if he was any good with snakes because I had one in the closet and I think it is a Rattler!!!. Well to make this shorter. Sarah stated that he may be able to help and wished me good luck. SOOO Bob got There, I did the girl thing and said " Do you know how to kill a snake cuz I got one?" And try as he may he did everything he could to keep it alive, but I was busy trying to smash it's tail, and I am sure Bob can fill you in on the event.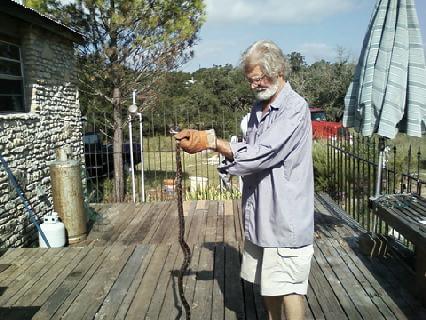 We'd love to invite you to join our family of pure HD5 propane customers. It's the cost effective, green energy solution and you can enroll in our Keep Check program free of charge – that means we'll automatically monitor your propane tank so you'll never run out!